Hudson Yards: The Retail Evolution Continues
When Hudson Yards opened its facility on March 15, there was a lot of excitement. It's the first lifestyle center built in Manhattan, and occupies a large parcel roughly bounded by 10th and 11th Avenues, and 30th and 34th streets.
I was among the first visitors on a windy Saturday the week after opening to test the marvel of the new development. Although I don't live in Manhattan, New York City is a place I once called "home" and the location of my entrepreneurial awakening.  I now come here often for business, to check out art exhibits and plays, once even making my own Broadway debut with the #CandlePower pop-up in Soho.
Although I am used to the hustle and bustle of the city, I still felt a sense of wonder when I arrived at Hudson Yards. And this being New York, you could hear many different languages being spoken by visitors from around the globe marveling at this new destination.
From my perspective, the most anticipated building is the "Vessel," designed by British Architect Thomas Heatherwick. This is a new kind of public landmark, shaped like a beehive with eight stories of glass and metal. It sits like a jewel among the many other modern buildings, offering an amazing view of the Hudson River while glistening in an amazing backdrop!
Another major draw for visitors to Hudson Yards is the shopping. "We were offered space over at Hudson Yards, but the asking price is not possible, even for New York City.  One would have to have insane sales to make that kind of rent," offered fashion designer Karolina Zmarlak from Poland but who has lived in New York for the last two decades.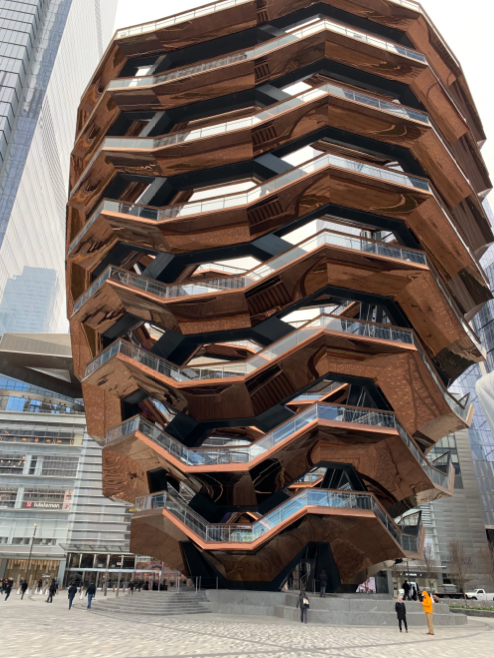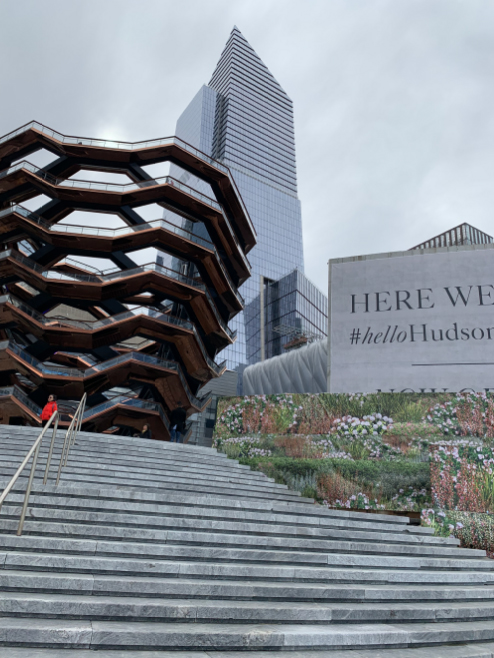 I was not surprised when I heard this comment. This shopping center boasts one of the most expensive designs and features, with five stories of open space in the middle, an all glass exterior, high ceilings and plenty of space for coffee and other explorations. It is more of an indoor entertainment park than your traditional boxed in center with miles and miles of similar looking national retailers!
The Boutiques
Hudson Yards showcases names such as M. Gemi and Forty Five Ten, Neiman's new boutique concept that is highly curated and brings art and fashion together. Having admired the work of M.Gemi from many friends who wear the beautifully crafted shoes, I decide it was time for me to check out the styles.
The M. Gemi shop at Hudson Yards looks like a traditional shoe store in a mall with an array of styles from the very dressy to the more comfortable.  But the experience is different, "Made the old way, sold the new way" is their motto. When I talked with M. Gemi Regional Director Fatima Cardoso-Monaham at the shop, she shared with me that having worked for luxury company LVMH Group in New York, she found this business fascinating.
"We share the same artists and craftsmen like Prada and Tod, Maria (the co-founder of the brand) is friends with all of them in Florence, Italy, where the brand is based. But imagine the price is only half of those of the other luxury brands because we are able to ship direct to consumers and cut the cost down!"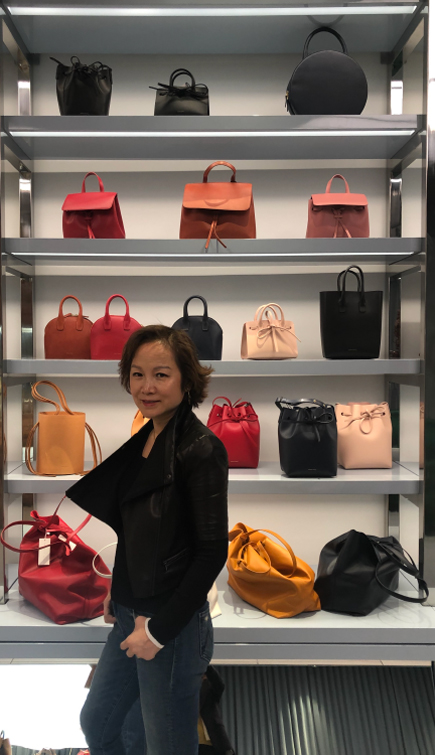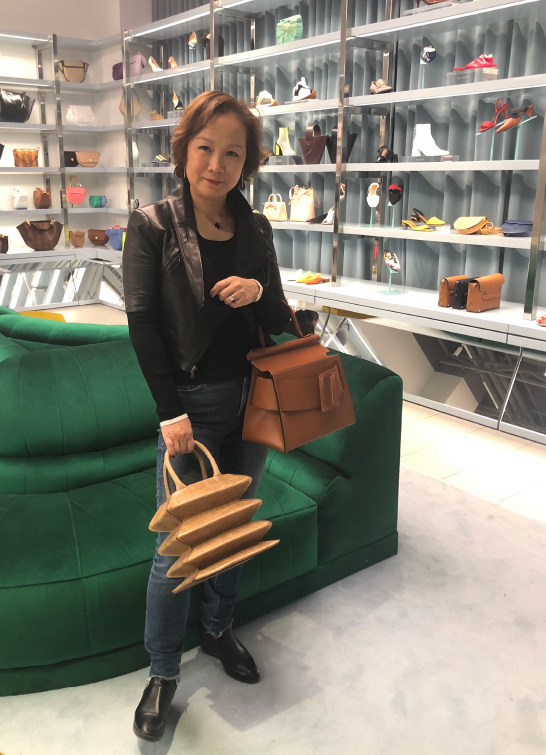 Imagine my delight in knowing that the store has every color and size I am looking for, and can ship to my home the next day; this is especially dreamy since I am traveling directly from New York to Miami and can't lug a bunch of shoe boxes with me.   Others obviously shared my same enthusiasm, for in the half an hour I was there shopping, throngs of others were doing the same, buying a pair or two, and thrilled to know their packages would waiting for them when they got home.
I was impressed with how organized the M. Gemi store is, and how easy the "semi-customized" experience is, but wondered how many pair of shoes it needs to sell to afford the rent? Given that almost half of the shoppers are tourists, perhaps that is just the reason why the brand decided to open a store here – to introduce the brand and the experience to new consumers, a new demographic.
It makes sense then for Hudson Yards to build itself as a testing ground not only for brands like M. Gemi but also for Neiman Marcus. For years Neiman's has tried to reinvent itself by opening stand-alone stores to attract young and urban shoppers. But in most cases, it failed.  With fashion going more street-style, and brands like Louis Vuitton hiring artists like Rhianna to reach new consumers, how stores talk to young consumers, and how they test brands becomes key for the fierce competition against not only the likes of Supreme, but the relentless effort by Zara and H&M!
That is indeed what Forty Five Ten is tasked to do. With an array of new talents showcased in boutique-like environments, the traditional sense of a department store gives way to edge and stylized storytelling. I was particularly smitten by the handbag brands that have been Instagram darlings in the last few seasons: Loeffler Randall, Staud, Wandler and Mansur Gavriel are all on display with the latest colors and sizes.
I had to end my visit to Hudson Yards in a hurry to interview Karolina in her studio in the Fashion District, but this professional shopper gives her thumbs up if you ever want to stay away from the crowds on 5th Avenue!